THIS POST CONTAINS SPOILERS!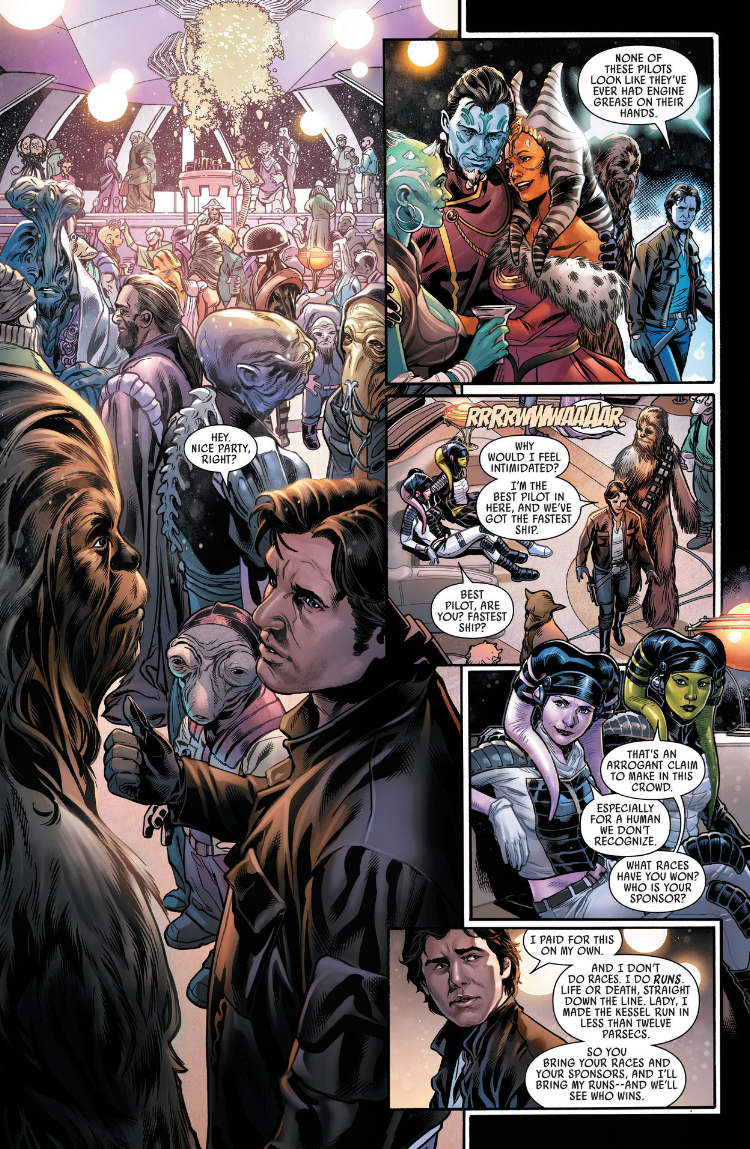 Given that we are in the lead-up to Solo: A Star Wars Story, I thought it would be fun to kick off my reviews by going back to read and review some of the newer canon material and older Legends material that focuses on Han (and by extension, Chewie and Lando). For the first pass, I thought the Han Solo comic miniseries, released in 2016, would be a good jumping off place. Even though it has been out for almost two years now, it's easily accessible and is one of the first solo (see what I did there?) stories we get for Han in the new canon. Set between A New Hope and The Empire Strikes Back, this miniseries focuses on Han as he struggles to find his place in the galaxy after helping to destroy the Death Star. Not quite eager to jump back into the smuggling business but equally unsure of committing to the Rebellion, Han is drawn back into the fight when Princess Leia asks a favor he can't refuse: pick up Rebellion spies (one of whom is potentially a mole) while flying the Dragon Void Race, a cutthroat competition every pilot dreams of flying. As events unfold, Han has to trust his instincts, beat the odds, and prove his naysayers wrong to complete his mission and potentially score the biggest win of his career.
The artwork by Brooks and Vine is excellent; they do a good job at capturing the likeness of the characters we know and love while still maintaining their own style. We get to see a nice cross-section of the galaxy, with both familiar and new alien species and a plethora of new characters that are a part of the Rebellion and the galaxy at large. One of my favorites is the mysterious Loo Re Anno, a mysterious alien pilot said to the be the last of her species who is one of the few to have full faith in Han. (I wonder if Han thinks of Loo Re Anno while he is managing young hotshot pilots later in his life, as we learn he is doing in Bloodline?) I think this series does a good job of showing us the many sides of Han-- from his inherent heart of gold to the chip on his shoulder, Han comes across as sympathetic but untrusting and reluctant. While the story itself isn't all that groundbreaking, the characterization feels spot on given where this story takes place in the timeline and gives us some more insight into Han's character. And for all the Han/Leia shippers out there, we get a couple panels at the very end confirming Han and Leia's burgeoning feelings for each other, in a very sweet, subdued way.
Overall I highly enjoyed this comic: there's a lot of action, some intrigue, interesting new characters, and insight into old favorites. I would definitely recommend picking it up!